Water is the most vital liquid to sustain health and bodily functions among all living species. Humans can't live without having clean water to drink for prolonged periods of time. Sadly, not all water is safely managed by a company like TWC in London for human consumption such as open waters, seawater, and in many cases, this includes tap water. Fortunately, there's a way you can make water cleaner for consumption through filtration. 
Water filtration is a type of water purification system that began in work offices and corporations. Today, it has effectively been rolled out to residential homes and hospitals due to concerns over the cleanliness of water especially in remote areas with little to no access to it.
Medical experts believe that consuming filtered water brings about different benefits. The following are some of them. Keep on reading to learn more.
You And Your Loved Ones Get To Enjoy Safer Drinking Water
One of the most sought-after benefits of filtered water is its intricate water purification process. This removes harmful foreign contaminants, bacteria, and chemicals that can make their way into drinking water. These can be toxins and metals such as lead, mercury, pesticides, and organic microbes that compromise water quality and threaten the health of water drinkers across the globe.
The issue of safer water has become a priority for people who live in areas with possibly unsafe tap water. Thus, as online resources like the Filtap homepage and the like demonstrate, filtered water can be installed in a home for drinking, washing, and cooking without the need to rely on chlorination to clean water. The result is a water system that protects your family's health when it's dispensed from any faucet in the house.
Using Filtered Water Can Boost Skin And Hair Quality
Many dermatologists have attested that washing with regular tap water that's heavy with chemical content such as chlorination. These could strip your skin of natural oils and moisture that leads to dryness and faster aging. The same can also apply to your hair when you shower as chemicals break down essential collagen that makes hair and skin dull and less supple.
On the other hand, washing your face and hair with a filtration system in your bathroom removes these chemicals so that only purified water remains. As such, it can be a key factor in working with your products to achieve robust hair and replenished skin.
Filtered Water Equals Better Tasting And Smelling Water
It's no secret that while water may be the healthiest and most vital drink, it's not the most popular one, especially among children. Further, families and residents who live in areas with natural water sources tend to drink less tap water because it may have a more uninviting taste, smell, and tepidness that makes it unpleasant to drink even after treatment.
Happily, water filtered through reverse osmosis process can help improve the taste and smell of drinking water, giving it a softer and smoother texture. What's more, water dispensers allow you to choose the temperature of the water to your suitability so you can enjoy cold or hot water every time. Better-tasting water can also encourage fussy kids to drink water more frequently.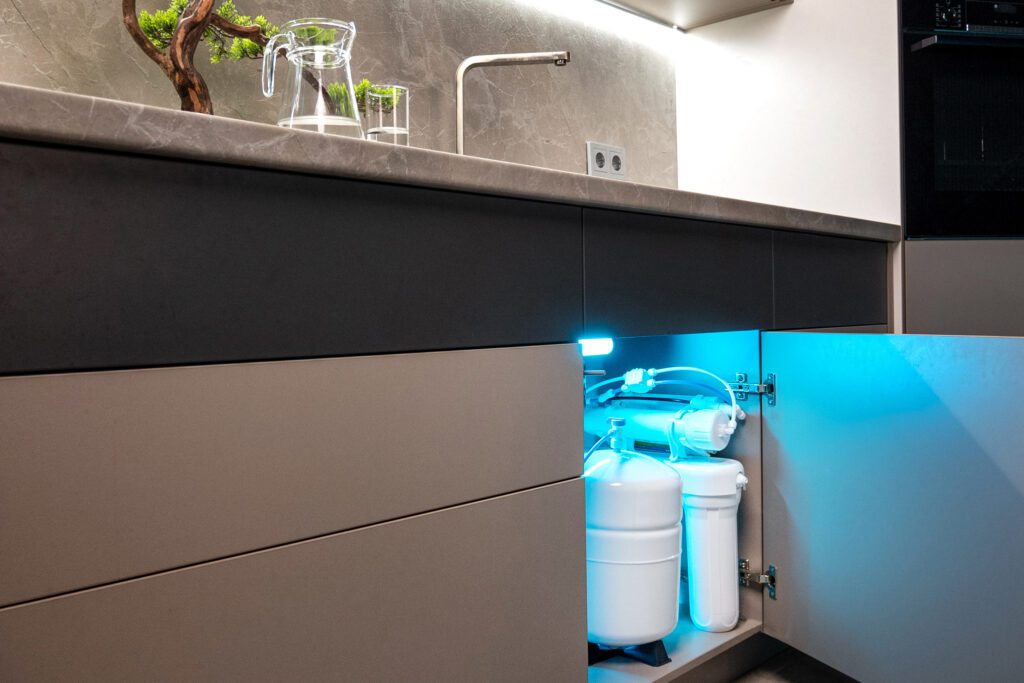 Consuming Filtered Water Can Improve Nutrient Absorption
While filtered water has the ability to remove most of the harmful toxins from water, it can also retain the healthy nutrients and minerals for you to benefit from, which include magnesium and calcium. The alkaline filters can boost the mineral content of water which assists in maintaining higher hydration levels.
Higher levels of hydration have been linked to improved digestion and absorption in the body because there's less resistance for cells when ingesting nutrients from everything you consume. In this way, you can help your body reduce constipation through an increased intake of fiber needed for bowel regulation. Doing this can make you feel good for everyday wellness.
Conclusion
Filtered water presents many health benefits for you and your family, with the most important one being safer drinking water that's virtually free from toxins, contaminants, and chemicals. Furthermore, the improved taste, temperature, and smell of filtered water can convince your family to drink more water.
Doing this can positively impact the quality of their skin, hair, and hydration. Staying hydrated with a greater mineral content in water can lead to better digestion and absorption in the body. In the end, filtered water can provide all the goodness of mineralized natural water while reducing toxins to contribute more to your daily health.