Your front door is the face of your home, and it's important that it looks its best. An attractive entrance not only adds curb appeal to your property but also helps create a welcoming atmosphere for visitors. Upgrading your door can be an affordable way to give your house a facelift without breaking the bank. Whether you're looking to upgrade the style or security of your existing door, there are plenty of options available on the market today. From sliding glass doors to steel-clad entrances with smart locks, there's something for everyone's budget and taste.
In this blog post, we will explore some useful tips for upgrading your front door so you can make sure it makes a great first impression! We will discuss everything from choosing materials and colors that match the style of your home to adding extra safety features like motion sensors and video surveillance systems. We'll also provide advice on how to find quality contractors who can help ensure that all aspects of installation go smoothly—from ordering custom sizes if needed to deal with any unexpected issues during installation or after completion!
Consider The Materials
Choosing the right materials for your front door is an important decision that can make a big difference in both the look and security of your home. The type of material you choose will determine how long it lasts, how much maintenance it requires, and even its level of insulation. Before deciding on a material, consider factors such as weather conditions, budget, style preferences, and any special features you may want to add. With so many options available today—from steel-clad doors to wood or fiberglass panels—it's important to weigh all your choices carefully before making a final decision.
In general, steel-clad doors provide the highest level of security, while wood and fiberglass offer more flexibility in terms of style. If you are looking for a more sustainable option, consider using reclaimed wood or even bamboo materials. Just make sure to invest in quality materials and get a professional installation if you are replacing an old door.
Pick The Right Hardware
The hardware you choose for your front door is also an important consideration. Different types of lock handles and other accessories can have a huge impact on the overall look and feel of your entrance. Make sure to pick hardware that compliments the style of both the exterior and interior of your home. If you're going for a modern look, opt for sleek stainless steel or brass fixtures; if you want something more traditional, try an ornate bronze or iron piece.
Luckily, there are a number of companies that specialize in unique door fixtures, so you should have no problem finding something to match your style preferences. Emtek and Baldwin are considered some of the best front door handles on the market, although there are plenty of other options available, so be sure to do your research. Also, make sure to double-check the measurements of your door before purchasing any hardware, as some pieces may not fit without modifications.
Choose The Right Color
Choosing the right color for your front door can be a tricky task. A bold color can help make your entrance more inviting, but it may not match the overall style of the home or neighborhood. On the other hand, a neutral hue may lack personality and blend in too much with its surroundings. Finding a balance between these two extremes is key.
When selecting colors for your front door, consider things such as what colors are already present on the exterior of your home and which colors would look best against them. If you're looking to add some drama to your entryway, opt for brighter shades such as reds or blues that will stand out from the rest of the house. Conversely, if you want something more subtle, try richer tones like browns or grays. This will help ensure that your door looks like it belongs and doesn't clash with the rest of the home.
Add Safety Features
Your front door should not only look beautiful but also provide a safe and secure entranceway for you and your family. Consider adding extra safety features such as motion sensors or video surveillance systems to help monitor who's coming and going from your house. Motion-activated lights can also deter potential intruders by making the area near your door more visible at night.
If you want something even more advanced, consider installing a smart lock that allows you to control access to the home from a remote location using an app on your phone. This is especially useful if you plan on renting out part of your house or allowing renters access to certain areas within it. Smart locks are available in various styles, so you can easily find one to match the aesthetic of your home.
Hire A Professional Contractor
Installing a new front door can be tricky, especially if you are replacing an older one. To ensure that everything goes smoothly and according to plan, it's always best to hire a professional contractor who specializes in this kind of work. They will be able to help you with everything from ordering custom sizes if needed to making sure that all aspects of installation go off without a hitch.
When looking for a contractor, make sure you do your research and read reviews online before hiring someone. You could also ask for references from family and friends who have recently had a front door installed. This will help you find someone with experience in installing different types of doors and help ensure that your installation is successful—from start to finish.
Add The Finishing Touches
Once your new front door is installed, it's time to add the finishing touches. These could include anything from a welcome mat to potted plants around the entranceway. You can also add decorative trim and moldings or stained glass windows to give your entry some extra character. By taking the time to make sure all aspects of your front door are perfect, you'll create an inviting first impression for anyone who visits your home.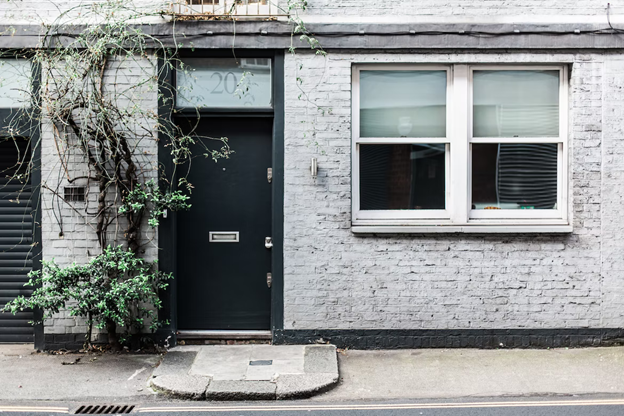 As you can see, installing a new front door doesn't have to be intimidating—with these tips, you should have no problem finding the perfect one for your home. From selecting the right color and hardware to hiring a professional contractor and adding the finishing touches, there are plenty of ways to make your entryway beautiful and welcoming. So, take some time to plan out your project and get ready to enjoy a new look for the front of your home.